Coaster Park Tycoon coming in 2016
|
Coaster Park Tycoon is coming in 2016. It's a new PC game by Frontier, the software company behind RollerCoaster Tycoon 3, the ThrillVille series, and new upcoming Xbox exclusive title ScreamRide. Few details were released about the self-published Coaster Park Tycoon and no hints were given about how it will stand out in the already crowded theme park management market, other than a promise to combine the aspect of tycoon style games we all love with a sophisticated simulation environment.
Jonny Watts, Chief Creative Officer of Frontier Developments, said: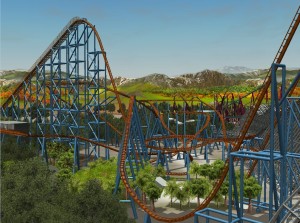 "Coaster Park games appeal to a great many people, as proven by RollerCoaster Tycoon 3. It is a field for which Frontier has unparalleled expertise and immense passion, and one to which we have long wanted to make a 'no-holds-barred' return. We want Coaster Park Tycoon to be another major step forward for the simulation genre, and sit alongside Elite: Dangerous as a second major self-published franchise."
This coaster game will be Frontier's Intellectual Property (IP) and not someone else's, like Atari, so they can really make the game their "own". Frontier has promised to "reveal more details" as they make progress. We're looking forward to learning more about Coaster Park Tycoon before it drops in 2016. What do you think – will it stand a chance against RollerCoaster Tycoon World?