The Making of RCT3 With John Wardley
|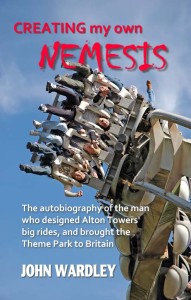 John Wardley is a world famous roller coaster designer. You may recognize his name from the RCT cheat where if you rename a visitor "John Wardley" all height restrictions are removed from the park. This is alluding to the fact that John's most famous creations were built at Alton Towers where they are not allowed to build any rides taller than the treeline. I just finished reading John's autobiography, Creating My Own Nemesis, and I was thoroughly entertained. The book is loaded with fascinating tidbits about the origin of some of the highest rated roller coasters in the world, including Nemesis and The Smiler at Alton Towers. Did you know a ride on a roller coaster may have saved a young girl's life?! My only complaint about the book is it's too short and I was sad when I got to the last page.
After reading the book, I had to know more about John and in my searching I stumbled upon this video, the Making of RCT3 with John Wardley. It's fascinating to see some of the creation process for RollerCoaster Tycoon 3. I believe John also worked with Chris Sawyer on the original RollerCoaster Tycoon game. Check this out (look at the computers they're using!):
If you want to know more about John Wardley or about designing roller coasters, I highly recommend reading his autobiography, Creating My Own Nemesis. The book tells of how John became involved in the theme  park business to begin with so if you are into magic, illusions, or theater production you will also really enjoy reading it.