RCT3D Release Date Delayed to October 2012
|
RollerCoaster Tycoon 3D will miss yet another release date. For at least the fourth time, the  Roller Coaster Tycoon 3Ds release date has been delayed, this time from August 18 to October 16th, 2012. The new roller coaster simulation game was due to come out in March, then was pushed back to May, then August, and is now scheduled for October. The funny thing is no official announcement has been made by Atari or the developer, n-Space, about the reason for the delay. RCT3DS received lukewarm preview reviews back in April but they have had plenty of time since then to make tweaks and fix any potential issues.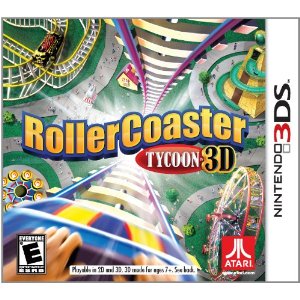 If this latest RollerCoaster Tycoon ever comes out it will be the first portable edition of the popular RollerCoaster Tycoon series and will only be available on the Nintendo 3DS. It's disappointing the game will have such a limited audience but on the other hand it could look really cool if you do own a 3DS and stylus controls could work really well for the game. At least when you finally get to build your own theme park in Sandbox mode you won't have to constantly be asking yourself "What would Walt do?" like the builders of the Walt Disney World resort. Embedded below is the teaser trailer for the game, which says "Coming in 2012."
In the meantime, us die hard fans are still waiting the PC release of RollerCoaster Tycoon 4. The longer we have to wait for RCT3D the longer we will have to wait for any news on RCT4. Join our newsletter for instant updates on anything RCT related. I've also updated my RCT timeline to go along with this unfortunate news.
-Nick
Can't Wait for RCT4
Tags: rollercoaster tycoon rollercoaster tycoon, rollercoaster tycoon 3 rollercoaster tycoon 3