Has the next installment of the popular RollerCoaster Tycoon series just been announced under our noses? Last month, the official RollerCoaster Tycoon Facebook page came alive for the first time since 2012. Then, on March 11th they posted "A wild thrill ride awaits! #RCT4M." That in itself was surprising but what happened next was even more so. Earlier today they updated the page's cover photo. While similar to past RCT games, the screenshot is of something entirely new! This screenshot combined with the past status update has us believing that RollerCoaster Tycoon 4 Mobile will be announced soon.
The cover photo could really be the first screenshot from RCT4 Mobile. The image is of a theme park called DreamLand. While other games are focusing more on realism and customization, the main focus of RCT4 Mobile looks like it's going to be center on fun and be more game-y than the others. The coaster building will more than likely be the exact same as in RCT1 and 2. Follow our Facebook page to know immediately about any updates.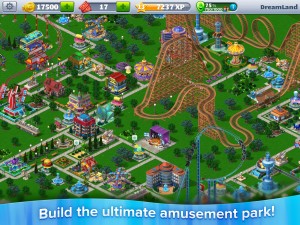 While it's not the RCT4 we were hoping for it's better than nothing for RCT fans. With heavy competition from Theme Park Studio and NoLimits 2, maybe it's better for the RCT franchise to head in a different direction? What are your thoughts on a RollerCoaster Tycoon game for mobile devices?