RCT4M Redeem Codes and Troubleshooting
|
RCT4M has a code system that allows you to "redeem"  codes and rewards you with special rides. To enter a code in RCT4M, go to the entrance of the park and tap the green present icon, select the "Redeem" option, then type in the code. A few RCT4M redeem codes you can try are:
xoxoxo: Haunted House
wheee: Loopy Loops
coaster: huge roller coaster
From feedback on our Facebook page, it seems many players are having issues with entering the redeem codes. There does not seem to be one answer that fixes everything but a couple of things to try are: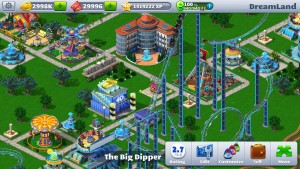 Just keep trying. I'm hearing sometimes codes that are not working eventually do, for no apparent reason. Go figure.
You may have to unlock the item within the game before you can use the code. Can anyone confirm?
Make sure you are online when entering the code. For offline play you need to turn on Airplane Mode, but then you can't access money or repair some items.
Zoom in, zoom out. Seriously. Try it.
If that doesn't fix it, exit the game; not just minimize it and go back to the springboard. Literally, close the game out, restart the game, and see if that helped. If not, reboot the device.
In addition to the RCT4M redeem codes, every player who connects through Facebook will recevie a personalized code. To get yours follow these steps:
In the bottom right hand corner of the screen, tap the Friends Code. Touch the connect to Facebook button and your new friend code will appear. To connect to other players, tap the Enter Friend Code button.
Some RCT4M friend codes to try: ZQFKBF, 84PS8H, 9T154Q, 2CH98F, udmvr1, NW5BF7, 27bppm.
See our complete list of RCT cheat codes. Share your RCT4M friend code by commenting below!
RollerCoaster Tycoon Classic is now available on PC and MAC! Find out more here.