Real Roller Coaster Design Software
|
Roller Coaster design software is a huge question for aspiring roller coaster engineers. Recently, there was an open Q/A session on Reddit with a roller coaster designer and the most often asked questions were: What roller coaster designing software do you use? Is it in-house or commercial? What program do you use to design roller coasters? What program do you use to make drawings?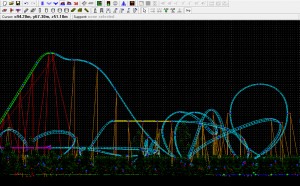 The first part of the answer is roller coaster engineers use the same computer software as other types of engineers. Modern roller coasters are designed using the latest in computer technology. What used to be done with paper, pencil, and drawing boards is nowadays done on a computer. The universal tool for the engineer is Computer Aided Design (CAD) software. Changes and iterations are made on a computer in seconds. Programs such as AutoCAD are used to draft, adjust, and detail designs in accordance with ride standards. Standard parts like bolts, springs, nuts, screws, and washers can be taken from standard part libraries or catalogs and bills of material can be derived directly from the model and inserted into a drawing. 3D CAD software, such as CATIA, SolidWorks, or AutoDesk Inventor, allows designers to have every step in the roller coaster design process contained within one computer program, including:
3D modeling
2D manufacturing drawings
Kinematic simulations (which give an idea of the motion path of the ride)
Finite element stress analysis (FEA)
High-resolution image renderings for marketing and sales purposes
The second part of the answer is it's a combination of in-house and commercial software. Please keep in mind that most of these companies have written their own programs to auto-draw many of the components they need (bents, bolts, etc, etc). Some of these programs may be separate pieces of software or code written as macros in existing software packages. My other advice if you want to become a roller coaster designer is to learn how to use VBA within whatever modelling software you use as it's becoming an extremely important aspect of design in general. Using VBA allows you to write macros to automate repetitive process and increase your design efficiency. Read an article about design a roller coaster in CATIA here.
Finally, here's my list of recommended software to learn (at least one from each category):
2D CAD software: AutoCAD, Draftsight (free)
3D CAD software: Solidworks, CATIA, Inventor, ProEngineer, SolideEdge, etc.
Math computations: Maple, MathCAD
Renderings: AutoDesk 3DS Max, Rhino 3D
Microsoft Excel (and how to write VBA macros)
NoLimits (useful when trying to sell or marketing a new ride)
Almost every company has or has used AutoCAD at some point in time. From articles I've read and people I've talked to I've been able to piece together a short list of what roller coaster manufacturers use what design software (please feel free to enlighten me if any are wrong or you know more):
Solidworks:
Inventor:
Dynamic Structures
Gravity Group
ProEngineer:
Thanks for reading about roller coaster design software. Find out more about real roller coaster design in Coasters101: An Engineer's Guide to Roller Coaster Design.