RollerCoaster Tycoon 4 Mobile Now Available on Android Devices
|
After a long wait, RollerCoaster Tycoon 4 Mobile is finally available to download and play on Android devices. The game can be downloaded for free via the Amazon Appstore and Google Play.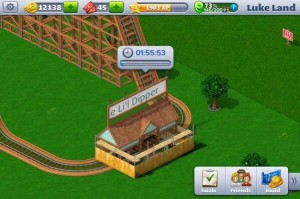 Here's what some of the RCT4M Android reviewers are saying:
"Adding friends and building customer rides really gives it an edge over Theme Park."
"Reminds me of playing the classic games but with a mobile twist. "
"Keep working on this app, Atari. I will be one of the first people to download the app once it is bug-free!"
"Thank you, Atari, for ruining the game of my childhood with a farmville clone of the same name. "
"This game is a bit slower to start than android but makes up for it with huge amounts of customization. "
Sounds like there are still some bugs to work out but it'll have to do until the new PC game, RCTW, is released next year. Download RCT4M via the Amazon Appstore.
What your thoughts about the Android version of RCT4M?