RollerCoaster Tycoon 4 Release Date Timeline
|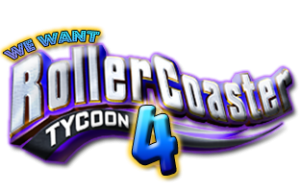 I know you are dying to find out exactly when RCT 4 is going to be released, but it's just not possible for me to let you know the RCT 4 release date just yet. Atari has refused to give an official release date at this point even though they have told us in August of 2010 that the game is officially being fully developed.
Details on RollerCoaster Tycoon 4 are still sketchy. Supposedly Atari is working on it and they are trying to work with Chris Sawyer, the original creator of the game, again. In the meantime, fans of the series still have RollerCoaster Tycoon 3D to look forward
While we wait for the RollerCoaster Tycoon 4 (for PC) and RollerCoaster Tycoon 3D (for Nintendo 3DS) release dates to be announced, I thought I would put together a little timeline of all the major news and events leading up to these most anticipated games.
On August 14, 2010, Atari created a new board on their forums asking for input from users as to what should be in RCT4. This leads many to believe that there is almost definitely a new version in the works.
November 9, 2011: Atari announces RCT3D, the first portable RCT game, available only on Nintendo 3DS.
March 2012: Original RollerCoaster Tycoon 3D release date. Game was not released on this date.
March 19, 2012: Atari announces RollerCoaster Tycoon 3D release date to be in Q2/Q3 of 2012.
May 22, 2012: Second release date set for RCT3D. Also missed.
June, 2012: Atari announces RollerCoaster Tycoon 3D release date to be August 28, 2012. Available to pre-order on Amazon.com.
August 2012: RollerCoaster Tycoon 3D release date delayed from August 28 to October 16, 2012. No announcement from n-Space or Atari.
Another thing that Atari mentioned in regards to the RCT 4 release date is that they will not be giving any kind of information about this game at all until RCT 3DS is released.
I just checked and it says that RCT 3DS isn't going to be released until August of 2012 so it will be at least a few more months before we hear any more information about the upcoming release of Roller Coaster Tycoon 4. But at the end of the day two new RC games will be coming out & I look forward to playing both. Join our free RCT email newsletter to stay in the loop, and receive automatic emails about updates to the RollerCoaster Tycoon 4 release date timeline.