RollerCoaster Tycoon Touch Now Available
|
As little as two years ago it seemed as if the RollerCoaster Tycoon series was dead. Now the theme park simulation market is absolutely stocked full of games for PC and mobile that every different type of player should be able to find the game that suits them best. Following the recent launch of RollerCoaster Tycoon Classic, Atari has just launched RollerCoaster Tycoon Touch on the App Store. Following the "success" of RollerCoaster Tycoon4 Mobile, which has garnered over 17 million downloads and 295 million sessions globally, comes the latest entry of the storied RCT series, where, for the first time in full 3D, players can design, customize and share their greatest park creations with friends from around the world.   RollerCoaster Tycoon Touch is free-to-play and was developed by Nvizzio Creations, the creative team behind RollerCoaster Tycoon World.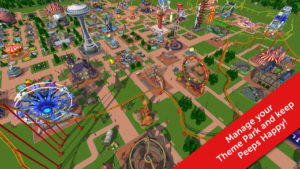 Additional Key Features Include:
Card Packs: Create fun, wild and imaginative parks by collecting cards packs full of exciting rides and coasters. Level-up, complete Missions, or visit the Card Shop to collect new cards to get different coasters, rides, scenery and missions for your park.
Coaster Builder:  Easily create wooden, hyper, iron and steel coasters, tracks, supports and stations with the user-friendly spline-based coaster and track editor.
Stunning Retina 3D Graphics: RollerCoaster Tycoon has never been this beautiful on mobile devices. Enjoy every park ride, coaster, building and park decoration in high resolution 3D graphics with real-time day and night cycle.
Park Attractions:  Customize your dream park and delight guests by choosing from over 100 different flat rides, park decorations, paths, restaurants, and shops. With additional content to be rolled out throughout seasonal events, RollerCoaster Tycoon Touch will offer the largest selection of content ever proposed on mobile.
Park Management: Create, manage and grow a successful park by maintaining peep satisfaction levels on activities, park value, revenue, and park decorations, and track everything with the intuitive Park Management panel.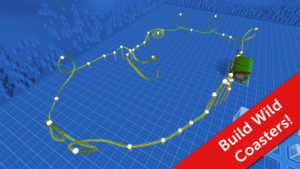 RollerCoaster Tycoon Touch Gameplay Video

Get RCT Touch on the App store.
Coming soon to Android.