RollerCoaster Tycoon World Release Date
|
Today, Atari announced the next installment of the popular amusement park simulator game. The RollerCoaster Tycoon World release date is set for early 2015. Yes, after a decade long hiatus the RCT series is finally coming back to the PC! According to freelance journalist Mike Mahardy in an article on IGN.com,
"Roller Coaster Tycoon World once again puts players in charge of a theme park, complete with rides, shops, patrons and, of course, roller coasters. Park maintenance and customer happiness need to be tended to, as well as overall construction and expansion efforts. But in the newest installment, players can also cooperate with up to four players to manage one massive amusement park."
The four player co-op mode will be made possible by more of an online presence. Roller coaster designs and parks can be shared online as well. Atari has also stated that RollerCoaster Tycoon World is a full PC experience, and will be "micro-transaction free," so players will have access to all of the content at release. Watch the RCTWorld teaser trailer below.
The first glimpse of the actual game as seen in the trailer looks more like RCT3 or RCT4M and not like RCT1 or 2 like many fans have hoped for. Letting multiple people work on one park at once is an awesome sounding idea and could be a great feature, but the main concern is most fans want the game to be realistic, not cartoony.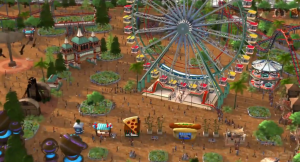 Subscribe to our newsletter to be instantly notified when the exact RollerCoaster Tycoon World release date is revealed. Are you excited for RCTW?