The RollerCoaster Tycoon World Release Date is…
|
…December 10th!!!
Yes, it's the moment we've all been waiting for!

The Roller Coaster Tycoon World release date has been set: 12/10/2015. This is for both PC and Linux-based systems, MAC release date coming later. Additionally, there will be standard and deluxe editions.

What will the game itself include? There will be scenario and sandbox modes. You can also ride your crazy coasters. RCTW will allow players to upload and share the coasters they build, custom scenery, and other assets, along with saved games and parks.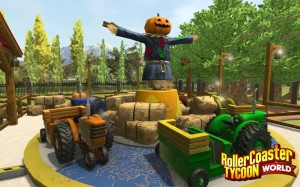 Some bad news though…RCTW's multiplayer mode will not be ready in time for launch, but I've heard it is planned as a free update in the future. 

Stay tuned for more information about how you can get your hands on RCTW. How excited are you??? We've been waiting for this moment for more than ten years.
UPDATE: According to Amazon.com, RollerCoaster Tycoon World will be released on March 30, 2016. Atari has not yet confirmed this date as they are still stating an "early 2016 release."