Theme Park Studio Release Date Announced
|
The Theme Park Studio release date has been announced as February 10th, 2014. At least, the early BETA version of the game that is. The latest update says Theme Park Studio is still in development and is actually going to be released in stages starting in February. What does this mean? The coaster construction module is only 60 percent complete and will be released in a future stage. The developers urge you to only purchase at this point if you are interested in being involved in the ongoing development of this exciting project. This includes testing, debugging, and supplying new feature requests. Theme Park Studio is all about creating a community based project and this first release basically allows us fans to get started designing parks, creating custom assets, and importing/sharing custom scenery.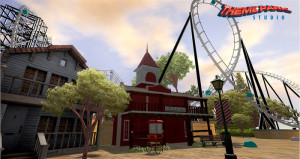 How will all this be accomplished? Valve will be carrying Theme Park Studio on Steam! Not only will this make the Beta program a very streamlined process, but it will allow additional features to be added at a later date to expand the product. A full development road map has been outlined on the Early Access page. Here is the link:
http://store.steampowered.com/app/254590
Via their Kickstarter they also announced they are creating a professional version and are honored to announce that the Theme Park Studio Professional Edition is scheduled for use in 2014 by Intamin Amusement Rides to showcase their newest coaster designs. There is amazing potential for Theme Park Studio and I am looking forward to what could be the ultimate theme park simulator.