Theme Park Studio Release Date
|
The Theme Park Studio release date has now been pushed back to April 2014. According to the message sent out to their Kickstarter backers, there is still a lot of work left to do. With the new features recently added, the new features planned, plus remaining tasks, they decided to push back on the final release again to April 2014 and the beta will be pushed back as well. The good news is they promise there will be something for us to play with by Christmas of this year that will allow us to start building and exchanging assets. Sounds exciting and I can't wait to see what it is (provided that doesn't get pushed back as well). The bad news for Theme Park Studio is NoLimits 2 is supposed to be released sometime this year and could make many fans decide not to buy Theme Park Studio as a result.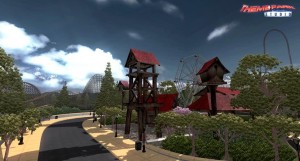 Theme Park Studio did release a new video that demonstrates the new custom train builder. It also demonstrates other features including on the fly rail type switching, rail coloring and shaping, custom camera fly throughs, utilization of existing community custom scenery, custom train colors, and terrain texture blending. Check it out below!
What do you think of Theme Park Studio so far? Which do you want more – Theme Park Studio or NoLimits 2?