Theme Parkitect Release Date Update and Kickstarter
|
It's a great time to be a fan of theme park simulator type games as another one was recently unveiled. Theme Parkitech is a new business simulation game that charges you with the construction and management of theme parks. Design roller coasters, install shops and thrill rides, and top it all off with incredible scenery and dynamic landscapes. Management is key: you'll have to look after employees, resources, and park infrastructure. Fail at that and face the consequences! Unhappy cashiers might annoy guests, unhappy custodians will leave your park a mess, and unhappy ride maintenance teams will leave your guests a mess. The Theme Parkitech release date is aiming for September or October 2015.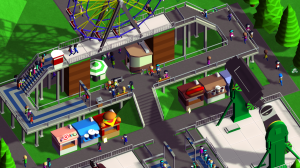 Theme Parkitect has been added to our game guide and will be updated as more information is announced. So what makes Parkitect different or unique from the other theme park construction games? Their website says you'll be able to build an efficient transport infrastructure to ensure the shops in your park don't run out of stock and you'll need to maintain the illusion by hiding the "behind the scenes" parts of the park using scenery. Sounds like an interesting new approach, but will it be fun for most gamers?
Check out the trailer for Parkitect below, I'm sure you'll see the strong resemblance to RollerCoaster Tycoon. Then back Theme Parkitect on Kickstarter.

Subscribe to our newsletter to get updates on Parkitech as well all the other great games coming out.